• Baby Easter Outfits • Good Egg Romper • Mini Me Romper • My 1st Easter • Sustainable Easter Outfits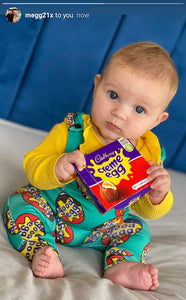 We love Easter as it's a time for family, friends, and yes, easter egg hunting. And what better way to celebrate than by wearing fun, colourful outfits? We know your little hatchlings love to dress up and embrace the festive feeling of easter.
We have been busy for a few months behind the scenes to bring you some unique baby easter outfits. They even got shared on the 'Mums to Be' Facebook page and it went viral! Read on to find out more.